Infrastructure Monitoring Service
IT infrastructure monitoring should an essential part of the IT Management Policy for an organization that is reliant on IT infrastructure. Proactive monitoring provides business continuity, quicker disaster recovery, and easier capacity planning for all mission-critical applications. 
Monitoring as a Service (MaaS) in the Cloud is a concept that combines the benefits of cloud computing technology and traditional on-premise IT infrastructure monitoring solutions. MaaS is a new delivery model that is suited for organizations looking to adopt a monitoring framework quickly with minimal investments.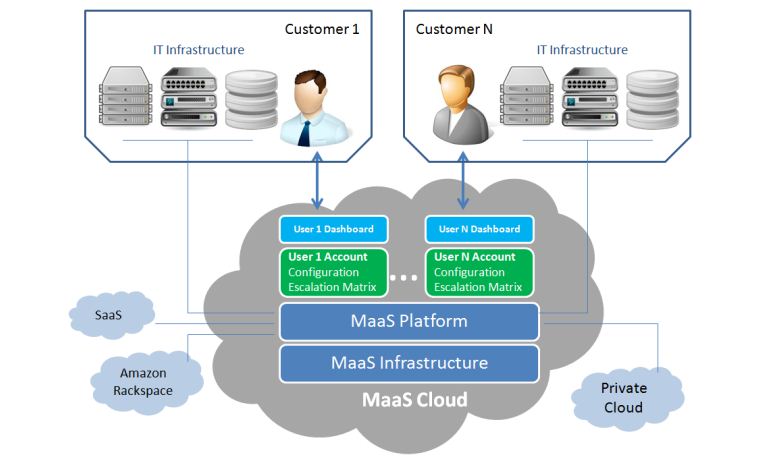 Benefits of Monitoring as a Service (MaaS)
The following are the benefits of monitoring as a service (MaaS) product:
Ready to Use Monitoring Tool Login: The vendor takes care of setting up the hardware infrastructure, monitoring tool, configuration, and alert settings on behalf of the customer. The customer gets ready to use login to the monitoring dashboard that is accessible using an internet browser. A mobile client is also available for the MaaS dashboard for IT administrators.
Inherently Available 24x7x365: Since MaaS is deployed in the cloud, the monitoring dashboard itself is available 24x7x365 that can be accessed anytime from anywhere. There are no downtimes associated with the monitoring tool.
Easy Integration with Business Processes: MaaS can generate an alert based on specific business conditions. MaaS also supports multiple levels of escalation so that different user groups can get different levels of alerts.
Cloud Aware and Cloud Ready: Since MaaS is already in the cloud, MaaS works well with other cloud-based products such as PaaS and SaaS. MaaS can monitor Amazon and Rackspace's cloud infrastructure. MaaS can monitor any private cloud deployments that a customer might have.
Zero Maintenance Overheads: As a MaaS, customer, you don't need to invest in a network operations center. Neither do you need to invest an in-house team of qualified IT engineers to run the monitoring desk since the MaaS vendor is doing that on behalf of the customer.
We are also serve in Monitoring
Servers, Storage, Networks Health Monitoring and Alert services Troubleshooting
SLA bound operations
Logs Monitoring and solutions
Application Performance Monitoring